Sabemos que los jeans son los básicos que no faltan en el armario de ninguna mujer, son prendas versátiles, que quedan perfecto en cualquier temporada. En ocasiones encontrar el ideal según tu tipo de cuerpo puede parecer una tarea complicada, si eres de baja estatura los siguientes tips te serán de gran ayuda en tus próximas elecciones. ¡Estos son los que más te favorecen!
We know that jeans are the basics that can't miss in any woman's wardrobe; they are versatile garments, which are perfect in any season. Sometimes finding the ideal jeans according to your body type can seem a complicated task, if you are short the following tips will be of great help in your next election. These are the ones that favor you the most!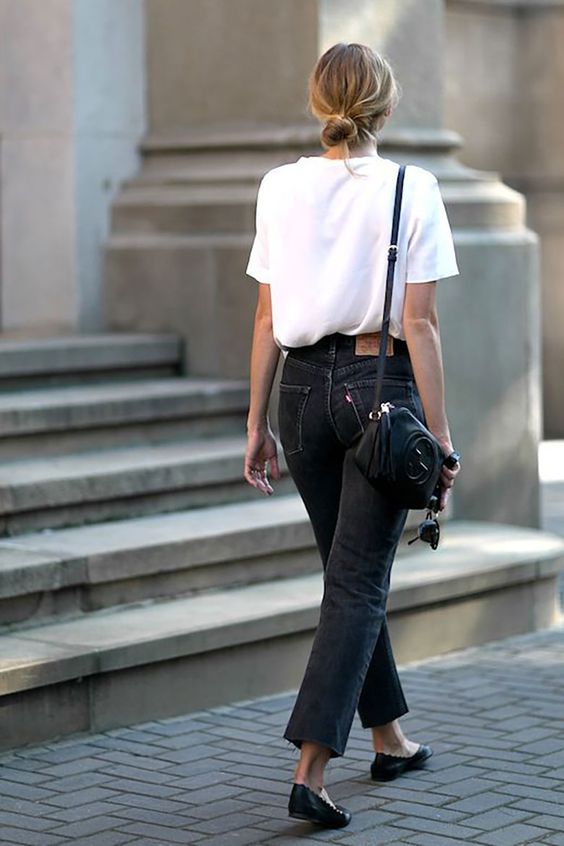 Los más cómodos y fáciles de adaptarse a cualquier tipo de cuerpo. Si ya encontraste los mom jeans perfectos y te quedan muy largos, ¡no te preocupes! Puedes doblarlo hasta el tobillo con el propósito de crear una ilusión óptica que te haga lucir unas piernas más largas. Te aseguramos que este modelo te va a encantar.
The most comfortable and easy to adapt to any type of body, if you already found the perfect jeans and they don't fit you right, do not worry! You can bend them up to the ankle with the purpose of creating an optical illusion that makes your legs look longer. We assure you that you will love them.
Largo hasta el tobillo
Long up to the ankle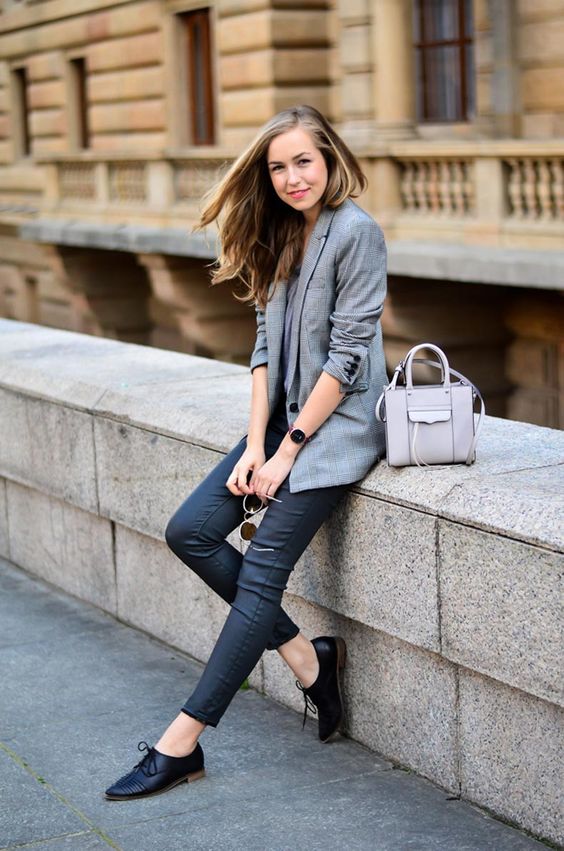 Y te preguntarás ¿por qué específicamente hasta el tobillo? Si dejas ver un poco el huesito que se asoma en tu tobillo, tiene el maravilloso poder de estilizar tus piernas y dar el efecto de alargarlas de manera visual. Si te quedan muy largos puedes doblarlos o cortarlos.
Why specifically up to the ankle? If you let the little bone that appears on your ankle be seen a bit, it has the wonderful power to stylize your legs and give the effect of lengthening them visually. If they are too long for you, you can fold or cut them.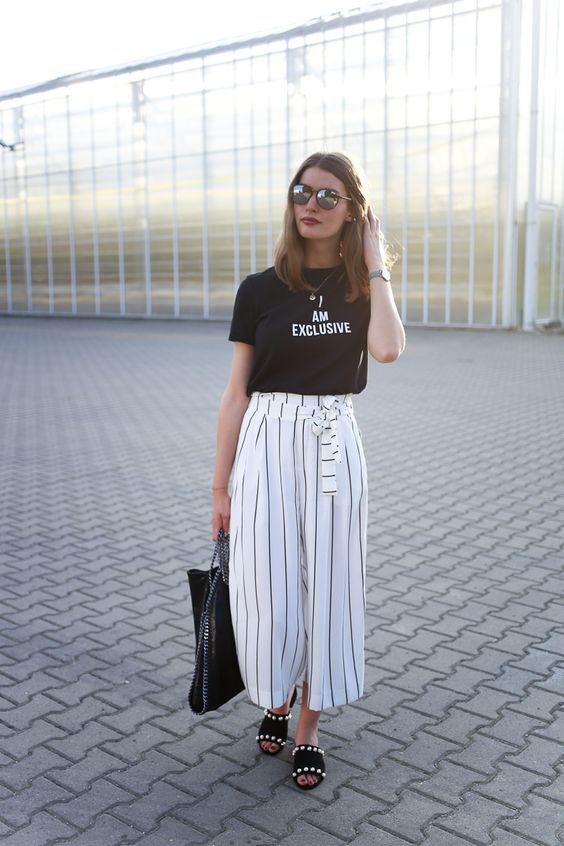 Los pantalones de este tipo son el hit del momento, en este caso te recomendamos dos puntos muy importantes que no debes olvidar: 1- evita que sea muy ancho y 2- los estampados te favorecerán más. Las rayas verticales favorecen a las bajitas, crean un efecto que hace que tu cuerpo se vea más largo.
Jeans of this type are the hit of the moment, in this case, we recommend two very important points that you must not forget: 1- avoid the ones that are very wide and 2- the prints will favor you more. The vertical stripes favor the short ones; they create an effect that makes your body look longer.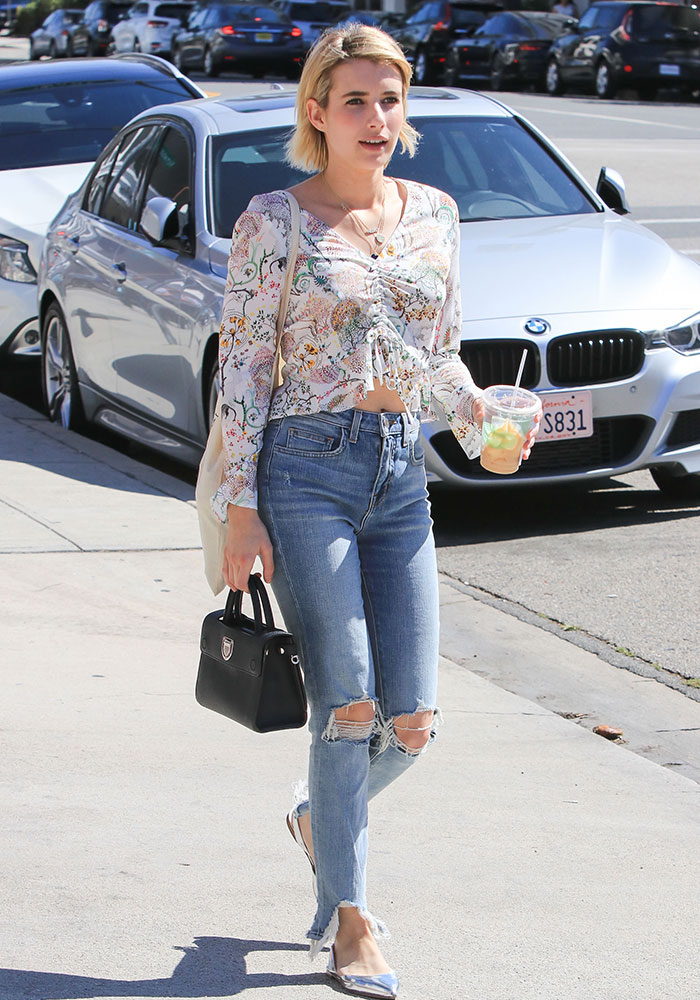 Aunque parezca una nimiedad, los pantalones rotos le dan un toque dinámico y sofisticado a tu look. Dan la impresión de que tienes unas piernas largas  y ¡ese es el objetivo!, ¿cierto?.  De preferencia te recomendamos las roturas no tan extravagantes, a la altura de la rodilla.
Although it seems a trifle, the ripped jeans give a dynamic and sophisticated touch to your look. They give the impression that you have long legs and that's the goal! Right? Preferably we recommend not so extravagant breakages, at knee height.
Renueva tu guardarropa con prendas que te ayuden a favorecer tu cuerpo. Juega con diferentes trucos de estilismo que le den a tu outfit puntos a tu favor.
Renew your wardrobe with clothes that help you favor your body. Play with different styling tricks that give your style points in your favor.
TE RECOMENDAMOS:
ANDREA RECOMMENDS